Kalender
VTK Jobfair
10:00 - 19:00
Locatie: Brabanthal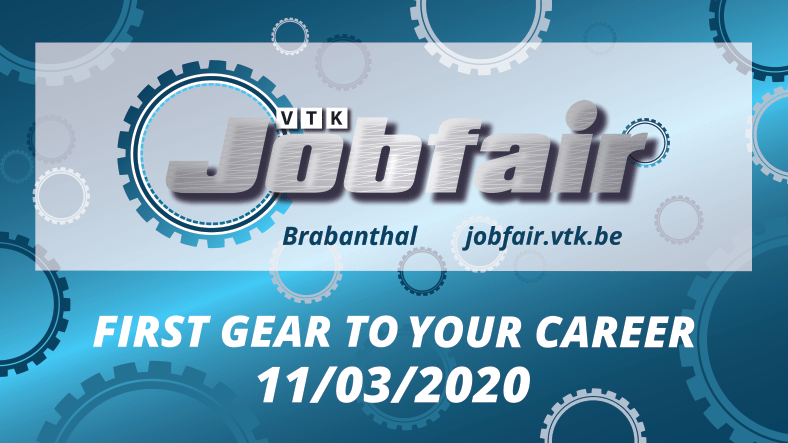 On the 11th of March, VTK Corporate Relations organises the Jobfair at Brabanthal. This is the 'first gear to your career'!
A unique opportunity to connect with more than 150 companies and 10 start-ups, go and look for your dream job! As a 1st master or 3rd bachelor student, our Jobfair is interesting as well. Come and have a look what the industry has to offer, look for a thesis subject or even find a summer job!
Do not hesitate to visit the Jobfair, register before the 6th of March via: https://jobfair.vtk.be/subscription/ This way, we provide a tasty lunch, goody bag with personal information and a QR code to connect with all the companies.
Schedule 10h00: Opening of the VTK Jobfair 12h00: Start of lunch 14h30: End of lunch 16h30: Start of the network reception 17h00: End of the Jobfair 19h00: End of the network reception
Network Reception Join our networking reception starting at 16h30 and enjoy some drinks, bites and live jazz music. This reception is the ideal way to have a chat with the companies members in a more informal environment or to discuss the companies with your friends.
Shuttle Buses We provide shuttle buses to make your transport to the Brabanthal as comfortable as possible. Join our shutlles at the C300 parking in Heverlee or at the corner of the Margarethaplein and the F. Smoldersplein in the city centre of Leuven.
Expectation Scan 4 out of 10 young professionals are looking for another job in their very first year of work… Why? Wrong expectations from the start and a culture mismatch. With the Kazi expecation Scan, Student.be and VTK try to avoid this mismatch and help you meet the right companies on the Jobfair! Do the Kazi Expectation Scan and discover your key soft skills & workvalues: vtk.student.be Based on your results you will know which company to visit on the day of the Jobfair !