Calendar
Sector Night Consultancy
19:30 - 22:00
Location: on.vtk.be/SNConsultancy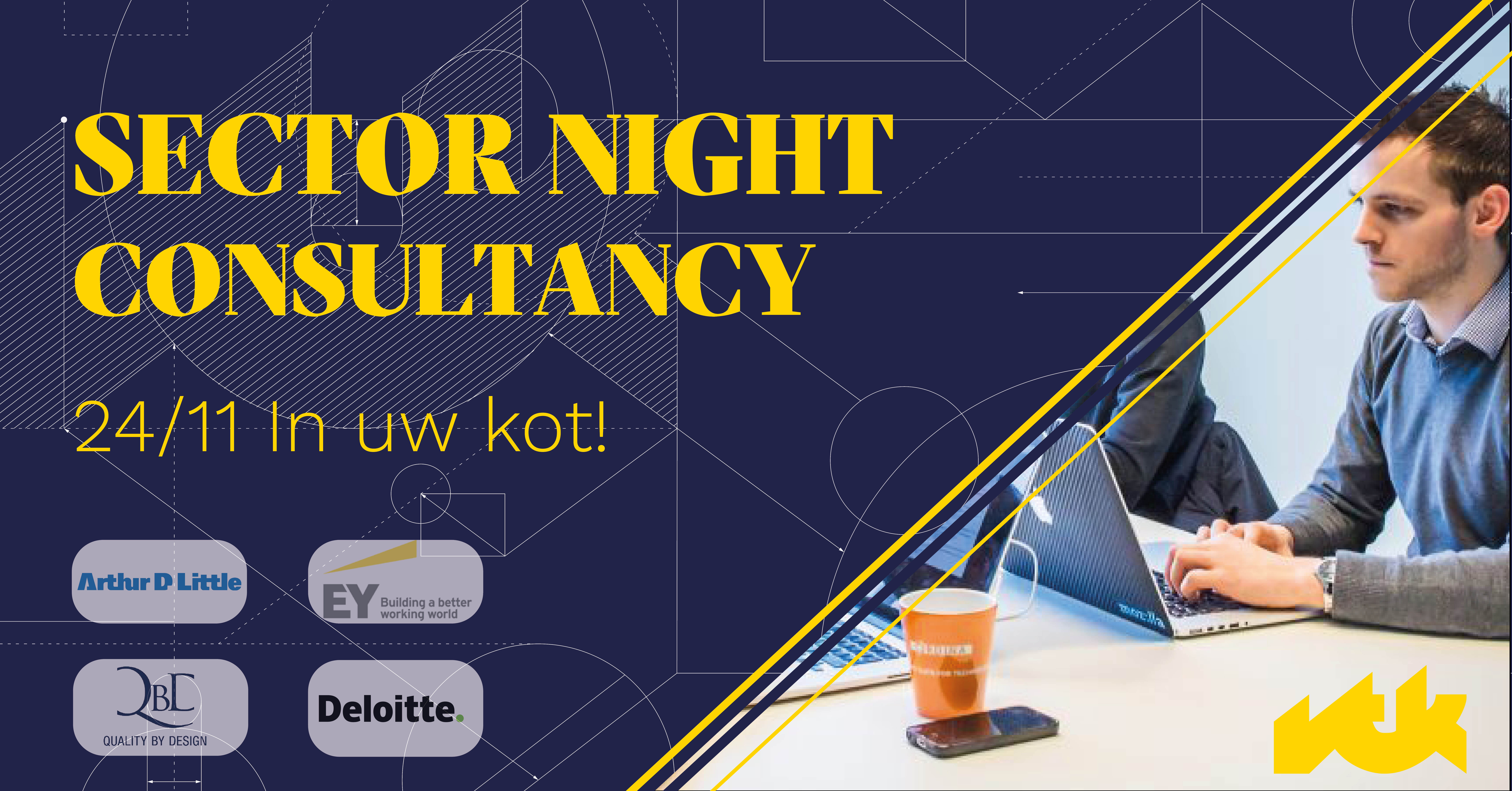 [English version below]
Voel je je ingenieur maar ook interesse in de business-kant van bedrijven? Wil je jouw kennis gebruiken om advies te geven in tal van sectoren en gebieden? Of heb je eigenlijk geen idee wat "consultancy" eigenlijk is en wil je hier graag iets over te weten komen?
(Tip: in consultancy is iedereen welkom!)
Kom het ontdekken op onze Sector Night Consultancy! Alle studenten uit bachelor en master zijn op dinsdag 24 november uitgenodigd om online kennis te maken met enkele interessante bedrijven uit de Consultancy Sector. Kom luisteren naar hun presentaties en ontdek wat de sector allemaal voor jou in petto heeft! Na de presentaties kan je in groepjes nog wat netwerken en babbelen met de aanwezige bedrijven en wie weet ontmoet je wel je toekomstige werkgever.
Je kan kennis maken met volgende bedrijven: Arthur D Little, Deloitte, EY en QbD. Inschrijven is verplicht en kan via: on.vtk.be/SNConsultancy
---
Do you think as an engineer but are you also interested in the business-side of companies? Do you want to use your knowledge to advise in a variety of sectors and fields? Or maybe you have no idea what this "consultancy" is all about and you want to find out?
(Hint: everybody is welcome in consultancy!)
Come and find out on our Sector Night Consultancy! All students from the bachelor and master programs are invited on Tuesday, the 24th of November, online, to meet several interesting companies from the Consultancy Sector. Join us and hear their presentations to discover everything the sector has to offer you! After the presentations you have time to network and chat in small groups with the attending companies and who knows, maybe you even meet your future employer.
You get a chance to meet the following companies: Arthur D Little, Deloitte, EY and QbD.
Registration is mandatory, do it now via: on.vtk.be/SNConsultancy