24 Hour Run
What is this?
The 24 Hour Run is probably the most well-known and popular student sports classic. This is a relay race between Leuven's various university, peda and colleges, each trying to run as many laps as possible in twenty-four hours around the athletics track of the sportkot. This year's edition starts on Tuesday, October 25 at 8 p.m. and ends on Wednesday, October 26 at 8 p.m. During this 24-hour run, in addition to running a few fast laps, you can also come and cheer loudly. Furthermore, you can enjoy the delicious food prepared by the architects of Existenz or marvel at our fabulous stand. And don't forget to enjoy the great, sometimes a bit competitive, but always fun atmosphere that lasts for 24 hours every year.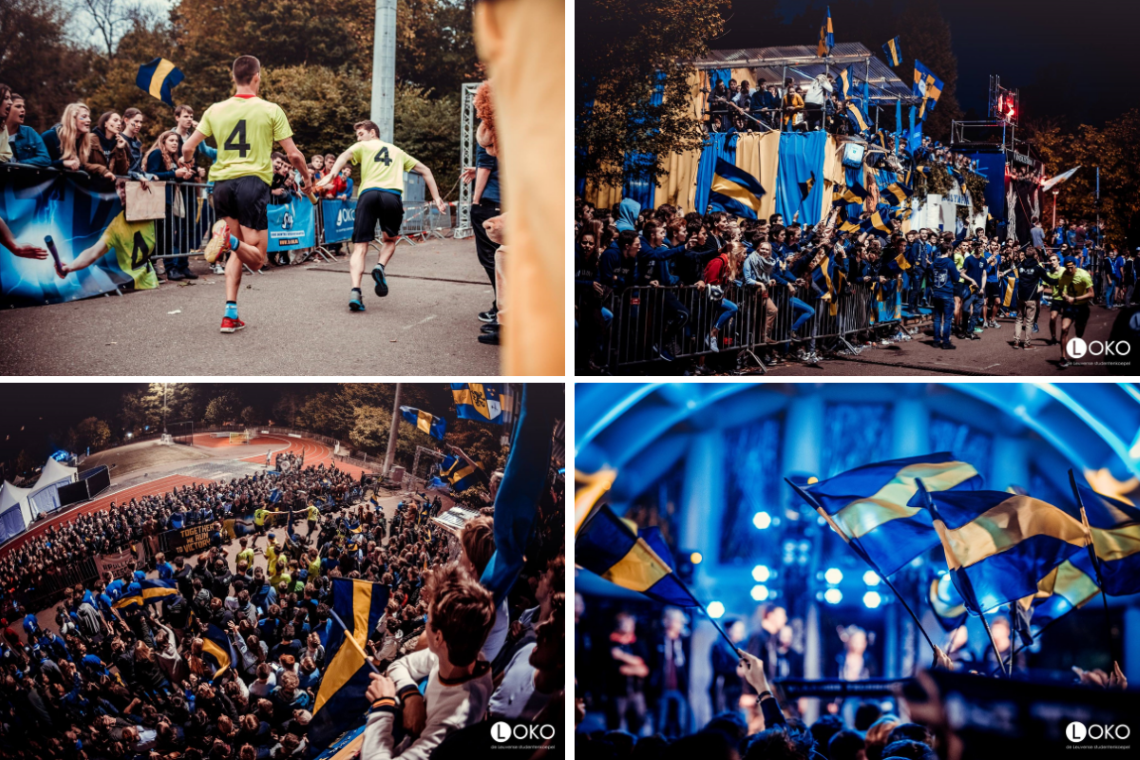 ---
Song Contest
Are you ready to sing and shout your lungs out for hours again? Do you also have fun song ideas? How cool would it be to have a whole VTK audience singing your song? It is possible! Because this year there is a contest for a new supporter song!
Submit your supporter song via this link! The winning song will be sung at both the supporter cantus and during the 24-hour run!
Need inspiration? You can find it here!
---
We want to win again!
As it should be for a top team like VTK, as every year we are going for nothing less than victory. In 2021, after an extremely exciting edition, we unfortunately fell just short of victory. We did run the amazing number of 1078 laps, which was basically a new record! However, Apolloon managed to go up to 1080. This year we will go for at least as many laps and claim our cup back! So be sure to come off to experience this legendary moment with us and run/shout us to victory! Don't let us down, let's play Apolloon back to town!!
---
Run Training
To stay competitive with Apolloon, it is imperative that everyone can run the famous 530m lap as fast as possible. We want to help you get/maintain your fitness and strengthen your muscles so that you become faster! (And therefore more chances to win fat prizes). To get you at the perfect level for the 24 hour run, we have created a running schedule that we will follow during the training sessions. In addition, there will always be sports drinks present at the training sessions. After each training there will be the possibility to record your time, whether or not to join our famous speedy team (see below). We also train regularly on the stick change since every little bit counts. Come train with us and before you know it, you'll be flying down the slopes! Training will be held Monday through Thursday at 8:30 pm. We meet at the entrance of the track @building the Nayer.
---
Speedyteam
As the name suggests, the speedyteam is VTK's "elite" team. The runners belonging to this team run at least under 1min 25s. The recruitment is done during the training sessions so be there! This team is our hard core of runners at the 24 hour run, a real honor. As a thank you, you will receive a unique speedyteam T-shirt. You will also receive this T-shirt at the training sessions. Even though the name may sound a bit elitist, don't be discouraged to come and train with us, everyone is welcome! Before you know it, you might be under that time yourself! Otherwise, you can still help us by coming out loud in support. This really makes a world of difference to the runners.
---
Prizes
For all those laps run, we of course want to thank our runners.
The prizes for this edition can be found here
---
Groups of friends
You register with a group of max 5 friends and choose 2 x 3 hours during the 24 hour run. By running laps under a certain time, points are earned.(Again, the rule of the faster the lap, the more points you get) During the 2 x 3 hours you have chosen, the points are counted twice. All laps outside of that count as normal. Happy hours within the period 2:00-11:00 even count triple! The goal is to accumulate as many points as possible. The top 5 groups with the most points will of course receive a nice reward. The registration link will follow.
You can find the prizes for this edition here
---
Points system
You will earn points for every lap you run under 1:29. The rule is: "The faster you run, the more points you earn". Earning more points will increase your chances at winning prizes. This system counts for groups of friends and individual runners (see 'tombola' below) and works as follows:
<1:25 2 points; <1:22 4 points; <1:19 6 points; <1:15 8 points; <1:13 10 points;
Tombola
You can also win awesome prizes individually! Your chances at winning increase when earning more points.. The signup link will be released later on. This year's gadgets can be found here.